Lawrence Electric realizes its responsibility to provide the safest possible workplace. Safely education is provided to all employees who must understand the "Safety Standards" that are presented at all job sites. Lawrence Electric's goal is to prevent and eliminate accidents from any job site.
Safety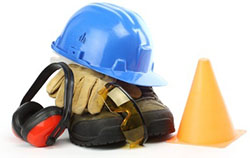 Lawrence Electric considers safety performance an essential requirement of good business. Lawrence Electric provides employees a safe and rewarding place of employment. All employees are expected to be alert and are required to exercise good judgment when unusual circumstances arise. At Lawrence Electric, safety is a condition of employment.
Lawrence Electric maintains many different programs and policies to ensure compliances with O.S.H.A. (Occupational Safety and Health Administration) and D.O.T. (Department of Transportation) regulations. Each employee is trained on hazard communication, lockout/tagout, personal protective equipment and is tested for drugs and alcohol upon being hired. A safety incentive program is another way that Lawrence Electric is improving safety awareness among its employees.
The success experienced with the safety program results from a complete management commitment. Lawrence Electric is organized in such a way that the safety department serves as a resource to the company as a whole. Each employee has a safety responsibility and safety efforts in the field are managed by a project supervisor. The safety department works closely with regulatory standards. Lawrence Electric's policy is to perform all jobs safely. Management is committed to this philosophy and it is expressed to all employees and supervisors.
Training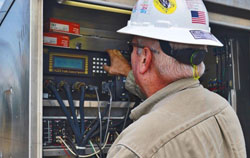 Lawrence Electric prides themselves on having well-trained electricians who are educated about their job and the specific hazards involved in electrical work.
Inside wireman apprentices complete a five-year apprenticeship program. The wireman apprentices attend J.A.T.C. (Joint Apprenticeship Training Committee) school, completing  800 classroom hours in a nationally recognized course, which earns them 39 college credit hours. All facets of electrical work are covered in the course which includes blue print reading, electrical code knowledge, security systems, telecommunications, electrical/electronic theory, fiber optic basics, transformers, power distribution, and welding.
All of the apprentice electricians must complete 8,000 hours of on-the-­job training under the direct supervision of a state licensed master or journeyman. The apprentices also undergo safety training in C.P.R. and are knowledgeable in both the individual customer's and Lawrence Electric's safety policies.